Title:
Small Figures In A Vast Expanse
Author:

flightjacket
Pairing:
general romance (reincarnation)
A/N:
Many, many moons ago, just after season 1 aired, I started working in a Merlin reincarnation!trope mix. It was extremely haphazard and unwieldy. I optimistically thought, "I'll just wait for season 2 and see where the canon takes me with this!" Then season 2 happened, which. Yeah... My enthusiasm for this mix waned as my cynicism grew. Cut to two days ago, when I was cleaning up my iTunes playlists and realized this mix has been gathering dust for so long! Out of laziness and cynicism, I have now stripped this mix of its more overtly Arthurian undertones. I leave you with some songs about love and time and sometimes how hard and sometimes how easy it is to merge the two.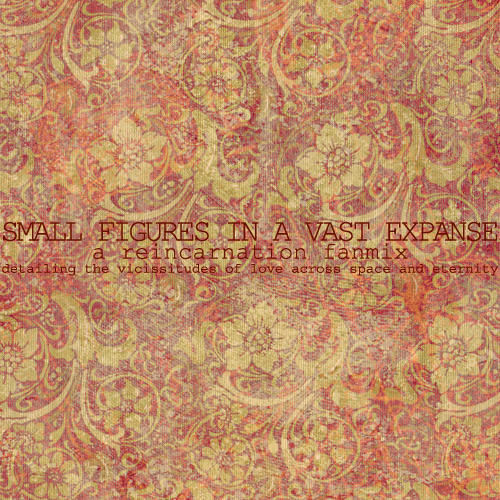 SONGS |MEDIAFIRE| ZIP

( detailing the vicissitudes of love across space and eternity )

Will mirror/reupload on request. Comments are cherished.